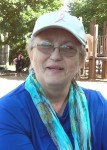 Sheila
D. (Tidd)
Rodriques
November 17, 1945
-
November 26, 2018
Born in Providence, RI
Resided in

Providence

,

RI
Obituary
Sheila D. (Tidd) Rodriques, 73 of Smith Street in Providence, passed away with her family at her side on Monday, November 26, 2018 at Rhode Island Hospital.
Shelia was a life-long Rhode Islander who loved her state and her beloved community of Elmhurst in Providence. She spent mornings at her local coffee shop, conversing with friends - new and old, playing rummy, and telling stories to her grandkids. Most afternoons, she'd walk over to her neighborhood park to soak in nature and let the neighborhood kids play with her puppies. She loved her puppies, Mocha and Chino. And she loved Fargnoli Park, where she was affectionately known as "nana" and known for her storytelling, humor, warm spirit, and vibrant colors.
Nana too enjoyed her walks, doing crosswords, and watching crime shows. Her favorite show was Blue Bloods; her favorite actor was Tom Selleck. But her favorite leading man was her late husband and best friend, Manny Rodriques - retired Providence Police Lieutenant. They spent every day together before he passed in 1997. They exemplified love, and she spent the last two decades of her life mourning his loss. She spoke of him daily.
Nana lived within a four-block radius most days, but she also enjoyed a bus trip to the mall when her health allowed. She had loved the theater since childhood. Whenever possible, she'd take in a movie with her grandchildren and reflect on the good ole' days at the theater with her mom. She treasured movies, her memories, and time with her grandchildren.
Nana is survived by three children, nine grandchildren, one great granddaughter, and a vast community of family and friends who loved and nurtured her. She had fought a long battle with breast cancer, but she remained optimistic throughout. She attended cancer walks each year to raise money for research and advocate for a cure. When she could no longer participate in the walks, she still attended, cheering others on from her lawn chair. She was a tireless advocate for survivors and wore her pink ribbon proudly every day. Her family now carries on the fight - in honor of her and all those impacted by this disease. In lieu of flowers, contributions to the Gloria Gemma Breast Cancer Resource Foundation are encouraged.
While Nana's final wishes will be carried out privately by family, all those who knew and loved her are asked to join in celebrating her spirit through conversation. Nana loved meeting and chatting with new people; she loved sharing stories and wisdom; and she relished in the thought of helping someone simply by talking to them. She welcomed everyone to her table at the coffee shop - where her smile, baseball cap, and whimsical scarf greeted you at the door. "Hello there," she'd say. Countless friendships were forged with that simple hello. Nana leaves a legacy of love, curiosity, compassion, and laughter. She will be forever missed.
To send flowers or a remembrance gift to the family of Sheila Rodriques, please visit our Tribute Store.