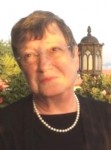 February 2, 1948
-
January 5, 2018
Born in Carbondale, PA
Resided in

Providence

,

RI
Obituary
Mary (Martin) Bartolini, 69, of 100 Exchange St., Providence, died at home with her family at her side on Friday January 5, 2018. She was the beloved wife of Vincent Bartolini.

Born February 2, 1948, in Carbondale, PA, she was the oldest of seven children of the late T. Robert and Rose (Ruppert) Martin. Mary graduated from Marywood Seminary high school in Scranton, PA. She earned a bachelor's degree from Trinity College, in Washington, D.C., in 1970.

Soon after, Mary moved to New York City, with which she began a lifelong love affair. For her, New York was a constantly evolving stage with new stories and opportunities. She loved the City's people, pace, and vibrancy; she treasured the institutions, entertainment, and cuisines on offer.

She joined Manufacturer's Hanover Bank (now part of J.P. Morgan Chase), in 1970. Initially hired as an administrative assistant, Mary received an invitation to enter the bank's managerial training program. Over the course of two decades, she rose through management to the level of Vice President within the private banking division.

In 1974, Mary met Vincent in Manhattan. They wed in 1975 and began a 42 year journey filled with travel, adventure, great food, wonderful family and friends, and immeasurable love. They shared a passion for Italy - its culture, its history, and its food - and for the New England coastline. They often visited Vincent's home state of Rhode Island together.

In 1981, Mary gave birth to the couple's only child, Daniel. She balanced life as an executive and a Mom, and instilled a love of New York in her son early. In 1992, Mary left the bank and became heavily involved in her son's school. She invested the same energy that she brought to banking to help organize events; she became a fixture with the football team on which her son played.

In 1996, Mary began working as a Stage (unpaid intern) at Peter Kump's New York Cooking School. She traded food prep duties for formal technique lessons. The school - renamed the Institute of Culinary Education in 2001 - expanded its operations, and Mary joined the administrative staff in 1998. Mary loved cooking. She eventually enrolled in the school's professional degree program, completing her training while maintaining her full time administrative role. She retired from ICE in 2013 and moved with Vincent to Providence, where they fell in love with their new home city.

For Mary, cooking - the act of preparing food for others - was a lifetime passion and an expression of generosity. The science of cooking fascinated her and led her constantly down new paths of exploration and creation. The social and familial aspect of creating a meal gave her distinct and honest joy. A meal at Mary's table - be it a single scrambled egg during a busy morning, or a multi-course Christmas feast - was always an opportunity to laugh, to cry, to share, and to be together. She used cooking as a way to tell cross-generational stories, carry on family traditions, and welcome new people to the family. For Mary, cooking was never just food. It was an act of love.

Mary loved her family deeply. In addition to her husband of 42 years, she leaves behind her son, Daniel, daughter-in-law, Therese, and six brothers and sisters.

Relatives and friends are invited to a Mass of Christian Burial on Saturday, January 20 at 10AM, in St. Pius V Church, 55 Elmhurst Ave., Providence. The burial will be private.

In lieu of flowers, donations to the Hospice program at VNA of Care New England are greatly appreciated. If contributing, please use the following link; please be sure to select Hospice as the designation: https://foundation.vnacarenewengland.org/donatenow.
Services
Mass of Christian Burial
St. Pius V Church
55 Elmhurst Avenue
Providence
,
RI
02908